Children and Creativity. Zebra out of Tire-covers. Crafts for a Playground
I always display an interest in
children creativity
as its ideas help to develop my kids imagination and art abilities.This craft is made in the same way like
A Giraffe
, we've spoken about in the previous topic.
Make the two animals and you've got your own Madagascar :) — a zebra Marty and a giraffe Melman!
A Zebra out of tire-covers. Crafts for a playground

The necessary materials:

— 1 tire-cover,
— 2 chocks or logs,
— eyes from an old toy,
— plastic bottle,
— old watering-pot (for a tail).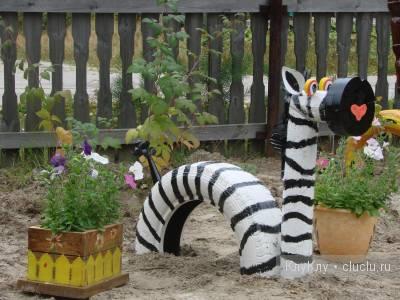 Making:

1. Dig half a tire-cover into the ground.

2. Out of a chock or a log make a muzzle, join the two chocks like the craft requires with nails. The body is 70 cm long, the head is 25 — 30 cm.

3. Dig in the chock beside the tire-cover.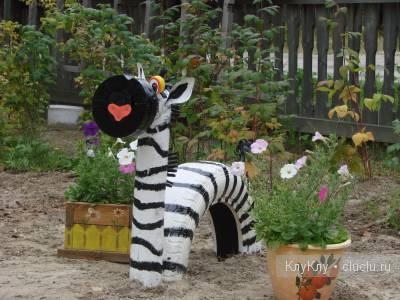 4. Make the ears out of a plastic bottle and nail or glue them to the muzzle.

5. Make eyes out of an old toy.

6. The tail is made out of the spout of a watering-pot, inside I've put a brush made from an old tire.

7. The nose is made out of thick rubber.
8. Paint the craft like a «zebra» and you've got a «real Madagascar» with a zebra Marty and a giraffe Melman!

Explore more interesting craft ideas here: paper quilling designs