Art Activities for Kids. Giraffe - Handmade Craft out of Tire-covers
Art activities for kids
can carry away not only children but also their parents. They start creating wonderful handmade things and enjoy greatly their collective work.
Giraffe — Handmade Craft out of Tire-covers
You can make such a charming giraffe with your own hands out of a tire-cover and a couple of wooden chocks. It'll certainly decorate your yard and remind you of your childhood :)
The needed materials:
— 1 tire-cover,
— 2 chocks,
— the eyes from an old toy,
— plastic bottle,
— old watering-pot (for a tail).
Making:
1. Dig half a tire-cover into the ground.
2. Out of one chock make a muzzle and join to the other one = a neck and part of the body with nails. The body is about 1 meter, the head is 25 — 30 cm.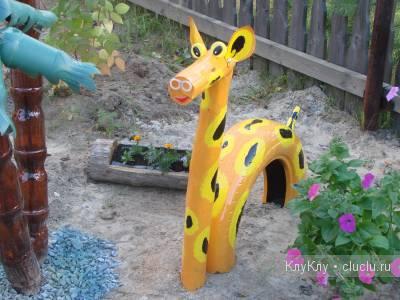 3. Dig in the chock beside the tire-cover.
4. Make ears out of a plastic bottle and nail or glue them to the muzzle.
5. Make eyes out of the lids of the plastic bottles and on them glue the eyes from an old toy.
6. I've made a tail out of the spout of a watering-pot.
7. Paint your craft like a «giraffe» and here you are — you are in Africa!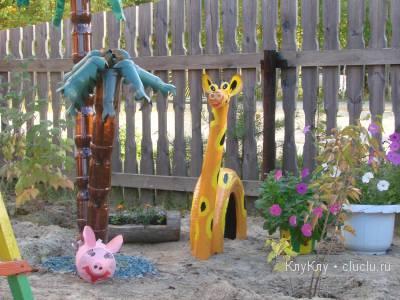 More about craft lessons is here:
paper origami for kids